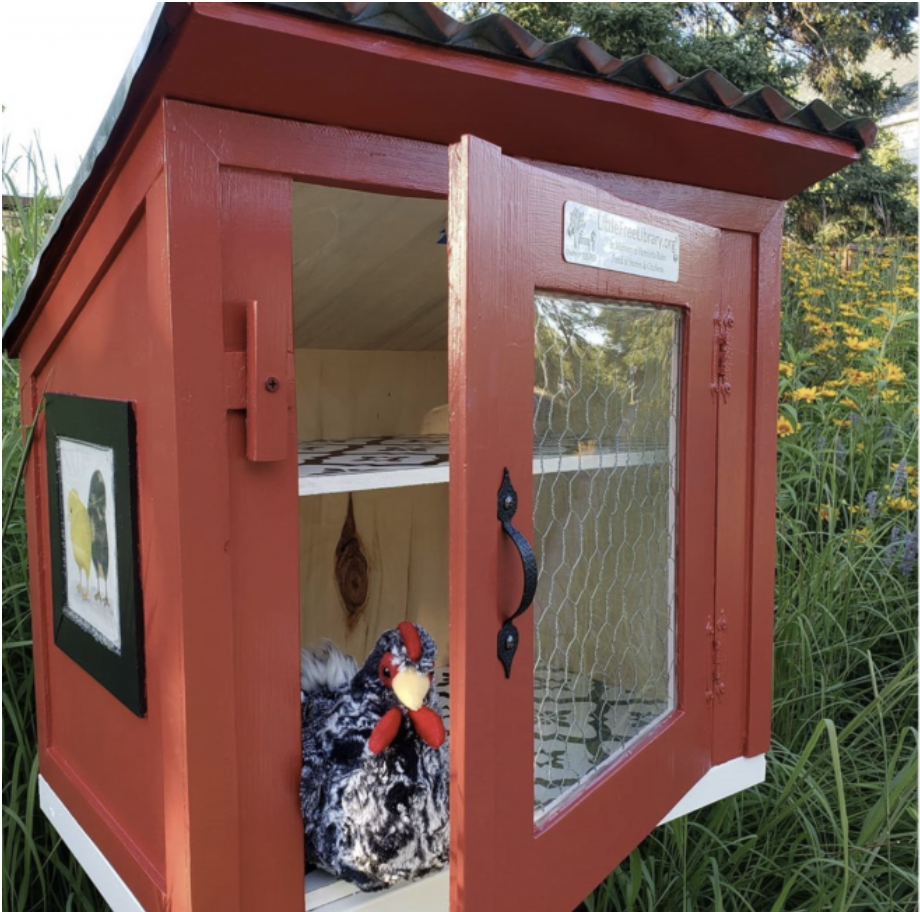 There's a chicken-themed Little Free Library in the Northland filled with books about diversity, equity, and accessibility? And it's partnering with a local bookstore? — LoLa says, CLUCK YEAH!
The flock is officially all jazz wings.
Like everyone else, we at Locally Laid have been trying to think of ways to help during these times. While our fundraiser partnership with the Duluth Screen Printing Co sent some much-needed cash to food shelves (thanks again to all who bought gear!) — that feels like a whole pandemic ago. And now, Black Lives Matter is appropriately stirring up the zeitgeist – how does a chicken take part?
Enter Tiffany Sprague and Samantha Smingler in Duluth and their hen-themed little Inclusion, Diversity, Equity and Access (IDEA) library.
They pined for a Little Free Library and finally found a chicken-themed one on the Nextdoor App. Some time had passed and they still hadn't put it up. Then COVID opened up their schedule and the murder of George Floyd changed the meaning of everything – and gave them time.
The Inclusion, Diversity, Equity and Access (IDEA) library was born. (You can see it on Instagram @hensinclusivelib. Where a glasses-wearing plush chicken narrates the posts. LoLa is smittened!)
The aim is simple:
(1) Put diverse books in their little free library, with the goal these would spread throughout the community as people drop them off in other little libraries when they are done reading them,
(2) Plant the seed that people could also put inclusive books in their own little library.
So far, they've purchased 50 books using their $600 weekly COVID unemployment benefit to seed the library with mostly children's books, as a lot of their friends have young kids. There are also YA and adults books as well, and most of the books focus on race or include characters of color. They've also signed up for two, ongoing diverse book subscription boxes to read and distribute.
To include the community, Sprague reached out to Zenith Bookstore. The independent business was quick to get involved by expanding a list of books on their website zenithbookstore.com, which supplies a number of titles that can be purchased for one's own reading, stocking a Little Free Library or seeding Tiffany and Samantha's. 

The pair had also grappled with what their authentic 'action-item' would be following the murder of George Floyd and the resurgence of the Blacks Lives Matter movement. "How do we best use our privileges to enact change in our community?," said Sprague. "Then we stumbled upon Sarah Kamya in Arlington, Massachusetts." Kamya has been stuffing LFLs with diversity books, which inspired Sprague and Smingler to honor the idea and put their spin on it.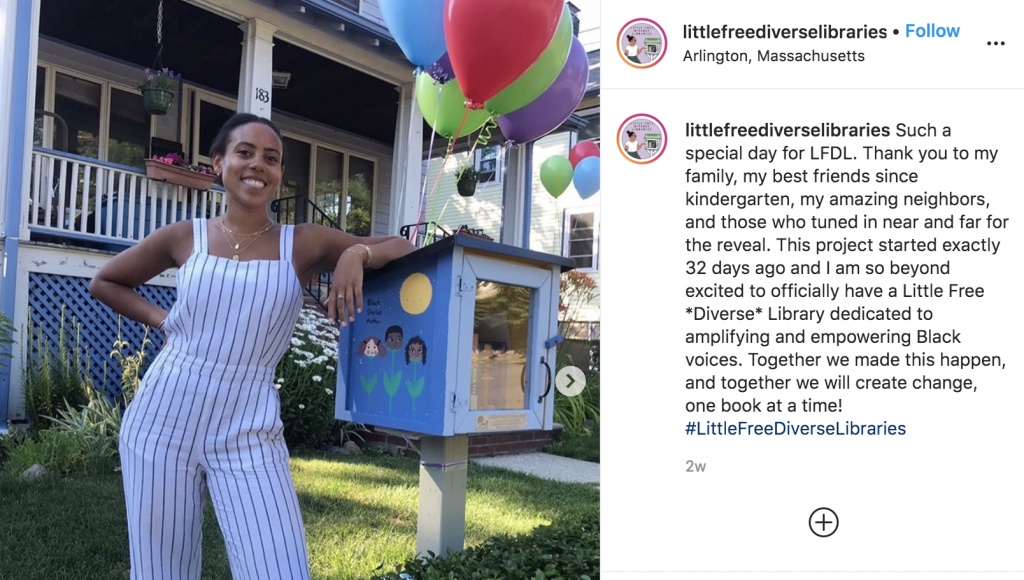 While the couple wants to further the current conversation on race, they also wanted to include other marginalized groups into their Little IDEA Library. This meant stocking materials about a wide-variety of other lived experiences, including: women, women in science, immigration, Native American and indigenous, mobility disabilities, dementia, low vision, deaf/hard of hearing, LGBTAIQ2S+, gender identity, autism and race, as well as mindfulness, kindness, inclusion and diversity in general. They admit there are additional facets they hope to also highlight, such as adoption and one-parent households.
In addition, Samantha Smingler makes sure some of the books themselves were accessible. She is the access and inclusion coordinator at Great Lakes Aquarium, and is constantly thinking about how to make things more accessible. Smingler has also suffered multiple brain injuries, which has left her with the inability to read the font size of a "standard" adult book.
"We also have a children's book on animals in Braille, as well as a few of our adult books on race in large print, and a kid's bedtime storybook in large print – I believe initially intended for grandparents who may otherwise struggle with smaller font size," says Smingler.
And given how much the folks and flock at Locally Laid love books (the chickens and their people were the subject of one, of course), we've made a donation to Zenith Bookstore to put towards stocking the IDEA library. We know that reading seeds change – after all, the book Omnivore's Dilemma inspired the launch of Locally Laid, a project that has not been easy, but the best ones never are.
The Little IDEA Library is on Instagram @hensinclusivelib.